Responding to the trends outlined in the previous section requires an organizational framework that categorizes those trends and leads to development responses. The CEDS utilizes a SWOT Analysis (Strengths, Weaknesses, Opportunities, and Threats). The SWOT framework is presented below, and each component is analyzed in the subsections that follow.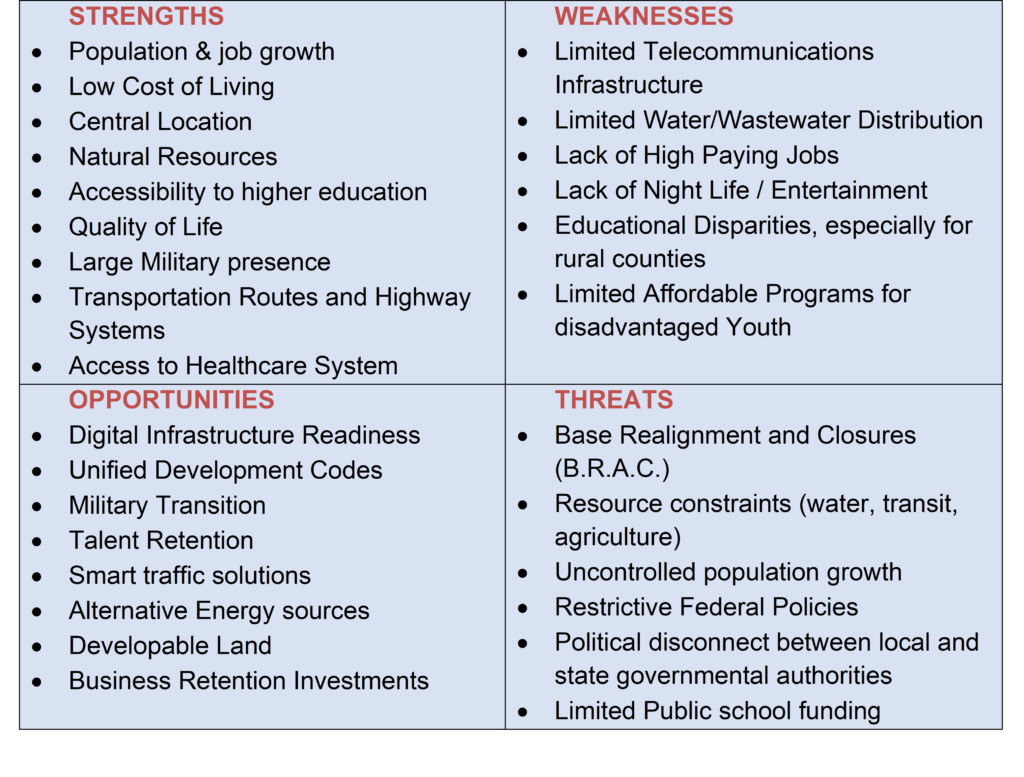 Strengths
Population & job growth
• Low Cost of Living
• Central Location
• Natural Resources
• Accessibility to higher education
• Quality of Life
• Large Military presence
• Transportation Routes and Highway Systems
• Access to Healthcare System
Population growth in the region is very healthy (particularly in the larger cities such as the Killeen-Temple metropolitan area); however, managing the growth presents challenges, some of which are only in the beginning stages if growth continues as projected. However, with careful planning, dedicated community leaders, local colleges, and the well-developed and highly skilled workforce from the Ft. Hood and the CTCOG region has a promising future of wealth and well-being. Along with having a central location and an abundance of natural resources, Central Texas has a comparatively low cost of living which is one of the most compelling assets of the region. Transportation ease and accessibility make other strengths possible. For instance, the time it takes to travel to get access to healthcare or higher education anywhere in Central Texas, is minimal in comparison to many other places. Therefore, the transportation systems give us easy access to quality healthcare from anywhere in the region. It also gives us quick accessibility for attaining a higher education while living off campus. Three of the major universities in Texas: University of Texas, Texas A & M, and Baylor are all along a highway system whereby a student could be at their intuition within a 2-hour time frame – from anywhere in the Central Texas region. The Central Texas region is also the beneficiary of a strong reputation for an excellent healthcare system, with Baylor Scott & White Hospital in Temple. The Scott & White Healthcare System is a non-profit collaborative health care system which encompasses one of the nation's largest multispecialty group practices. Scott & White employs more than 14,000 employees, 1,200 physicians and scientists, and is the primary clinical teaching facility to more than 300 medical residents and fellows in training at the Texas A&M Health Science Center College of Medicine. In addition, the Scott & White Health Plan serves more than 215,000 members, is the highest-rated plan in Texas and one of the highest-rated plans in the nation and is consistently recognized for member satisfaction. The CTCOG Region is well known for having one of the largest military installations in the world and the largest military base in the world (by area), Fort Hood. It encompasses more than 215,000 acres. That
reputation is a key strength in efforts to recruit new businesses and families to the region. To complement business attraction efforts, the Central Texas region provides considerable resources to support entrepreneurship. Perhaps it is the Quality of life in Central Texas that is exceptional, with wildlife, lakes, rivers, aquifers, streams and quiet country living! Along with that peaceful picture, there is the framework of residential neighborhoods that are convenient to area businesses that add to the big picture of easy living in Central Texas.
Weaknesses
• Limited Telecommunications Infrastructure
• Limited Water/Wastewater Distribution
• Lack of High Paying Jobs
• Lack of Night Life / Entertainment
• Educational Disparities, especially for rural counties
Perhaps one of the most frustrating weaknesses of the region would be the inconsistency of high speed internet / overall telecommunications infrastructure. Where some areas (both rural and urban) have high speed internet, other areas struggle to make otherwise simple connections to internet access. Equally as challenging is the inconsistency of water/wastewater distribution. While some areas have plenty of free-flowing clean water with few wastewater issues,  other areas (mostly rural) suffer with older pipes and septic tanks. Though the region has many strengths, it does also have competitive disadvantages, or weaknesses as they are termed here. First, though job creation in the region is strong overall, it is strongest at the mid and low- paying levels of the employment spectrum. In the market for high paying jobs, there is often a mismatch between the applicant's expectations and the wages an employer offers. Entertainment in Central Texas is perfect for families of all age groups. However, night life for young professionals is difficult to find in the region and they often drive to Waco, College Station or Austin to find it.   In addition to the other issues, there are the educational disparities. The students have a great selection for a two year degree, or to begin their first years in college in the Central Texas region. Often, there is a disconnect between education attained in high school verses what the universities expect from high school graduates. Apprenticeships and technical skill sets are needed in Public schools to meet the needs of businesses in the region.
Opportunities
• Digital Infrastructure Readiness
• Unified Development Codes
• Military Transition
• Talent Retention
• Smart traffic solutions
• Alternative Energy sources
• Developable Land
• Business Retention Investments
The opportunities within the region are golden. With digital infrastructure at the doorstep, Central Texans must be ready to take advantage of its potential soon to ensure that the region is suited for high tech industry. Going hand in hand with this idea is "talent retention". The talented and gifted workforce is the region's pride and joy. Ensuring that the talent has plenty of motivation to remain in Central Texas and the provision of a stable and up-to-date telecommunications systems are some of the tools needed to do just that. The military personnel have many times gone from high school to being trained in the military without the experience of applying for jobs or being trained in the civilian world. Transition programs are an enormous aid to the many to cross over into becoming a civilian again. A vital document that would consolidate all development-related regulations including zoning requirements, subdivision regulations, design and development standards, and review procedures between the Fort Hood area and the Central Texas Region is the Unified Development Code. The UDC has several advantages over maintaining separate zoning and subdivision ordinances. Central Texas must tap alternative energy sources if the region intends to be good stewards of land and money. These sources could free us from future gas and oil shortages or outages. In Central Texas, accessible and developable land is at their fingertips. A Windfarm in Mills County has provided opportunities for future energy alternatives as well. Taking initiative to protect it and utilize these open opportunities would be advantageous for economic growth and wealth. Business Retention Investments are plentiful in the region and can strengthen and expand the economy and keep businesses in Central Texas alive and well! The DDOCT has recently assembled a Business Retention and Expansion Task force in an effort to boost the economy in Central Texas. The Central Texas Region is fortunate to have numerous stakeholders involved in promoting economic development throughout the area. There is already strong collaboration at work across these local and regional areas, but the opportunity always exists to strengthen coordination and harmonize development efforts across the region. Greater information sharing and complementary initiatives (e.g.,regional GIS services or complementary target industries across localities) are examples of such coordination. 
Threats
• Base Realignment and Closures (B.R.A.C.)
• Resource constraints (water, transit, agriculture)
• Uncontrolled population growth
• Restrictive Federal Policies
• Political disconnect between local and state governmental authorities
• Limited Public school funding
Any reduction in force caused by the Base Realignment and Closure process (BRAC) or any other federal policy will have a significant and possibly devastating effect on the Central Texas economy. A close working relationship with the community and garrison leadership will mitigate any negative impacts to both Fort Hood and the
surrounding region. Resource constraints are on the rise with a growing population. The region· has limited water resources, and unchecked development without efforts to conserve water threaten those resources. Similarly, the transportation and local food/agricultural production resources are not scaling at the pace of population growth. Educational funding for public schools have been diminishing over the past couple of decades. The number one promise for the future of the region/state/nation is education. Public education funding must be addressed and supported by local and state authorities to meet the needs of the future. Many times, there is a disconnect between the local and state governmental authorities. The local authorities often recognize the importance of issues that arise, while the state authorities do not see the value or importance of necessary dollars being invested in certain areas. It's important for the legislature to ensure that federal policies allow us to grow and be successful. Uncontrolled population growth can result in any of the above threats not being taken seriously or planned for as growth is projected. The region's growth places a burden on city planners, government officials and developers to manage the growth of the region that preserves distinct sense of place. The threats ca n be minimalized when recognized and averted when plans are in place.